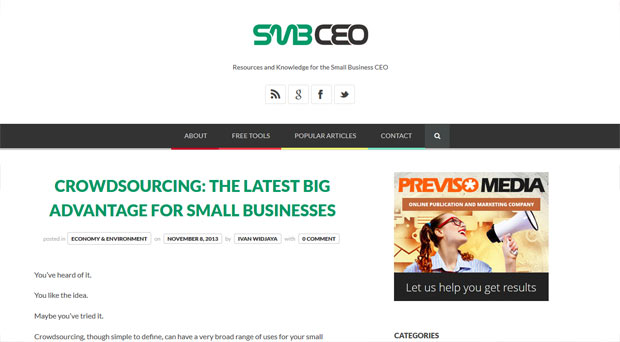 Project: SMBCEO.com
What: Website redesign and rebranding via new brand identity.
Why: The small business blog's design hasn't been updated since 2004 and by today's standard, it looks obsolete. The site is in dire need for a redesign. The site also doesn't have a formal logo as a brand, so we need to get this sorted out.
How: SMBCEO.com is aimed at small business CEO's audience. So we think the layout design needs to be clean and professional. The blog posts are great, but they need to be more readable.
So, we decided that we need a WordPress theme which is clean, minimalist and using the good-looking Google fonts (We choose Open Sans, by the way.) We decided to go with Bloggy WordPress theme from ThemeForest. No major customization for this one – only the 'continue reading' button placement, social media buttons placement, and other minor updates.
Logo design – we decided to go with the modern-professional look, and we decided to go with the site name without any additional branding imagery – in other words, the site name is the brand identity.